On the last weekend of September a few regulars came to the west of Ireland for a few days Pike fishing. The last time this group were here they were unlucky with the weather, this time it all went to plan.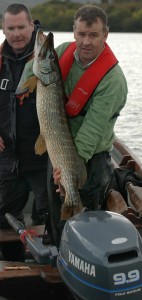 We based ourselves in Clonbur at Fairhill House, perfect for both Lough Corrib and Lough Mask. Conditions were ideal and we spent the first morning trolling lures. Some of the group concentrated on the shallower water and some in the deeps.
Alan from the UK, fishing with my friend Neil was first to find the fish with a cracking Pike of 24-04. A personal best. The fish took a shallow running lure and gave him great sport.
We also found some big shoals of bait fish in deeper water, probably Roach and Perch. The Pike were not far away but it meant running big lures down to 25 or 30 feet to find them.
We took a number of fish to 7 or 8 pounds before lunch.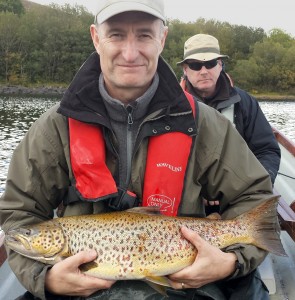 In the afternoon after trying a variety of spoons, Des Martin clipped on a huge orange deep running lure and within 5 minutes was playing a decent fish. Des had only had 1 trip out with me this year before this and landed a huge fish of 29-08. This fish was not quite in that league but after a very quick fight it turned the scales to 23 lb. Two trips and two 20s.
Things were not so lucky for his boat partner Mick, as he was unlucky soon after to lose a big fish as I had the net to hand!! An hour later he did get something to smile about….a cracking Ferox of just over 9 pounds, and one of the fattest fish I have seen in years.
After a great meal in Fairhill House and a few beers we still made it onto the water early for day 2. Again we followed the bait fish on the sonars and everyone had action on day two. Paul took a few doubles on lures and float trolled deads. Eamonn and Michael landed 4 fish in quick succession to just over 15 lb, after a quiet first day. Gavin from the UK had a fat fish of 14 lb which gave him a real run around.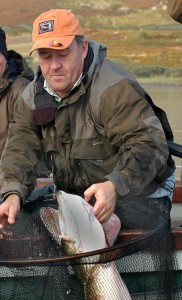 But the last laugh was again to Des, for he landed only his third Pike of the season in the late afternoon and you have guessed it, another twenty. This one rolled in at a shade over 22lb. So a great weekend had by all. Good numbers of fish, 3 Pike over 20 lb and a 9 lb Ferox, all returned and fighting fit.
To book a day with Richie contact him at:
richie@guidefishingireland.com or +353 (0) 83 1695975
 [whohit]Its Des Year[/whohit]